[Bearing]

The "Industrial Food" that pomote progress of times, running in almost everwhere from washing machine to rocket.
---
There are more than 100,000 kinds of bearing in the world. Bearing, the industrial food that rotate all machines, have their first presence in Japan as NSK. With advanced technology and challenge-like spirit, they developed generations of bearings with excellent performance, leading the industry. NSK developing institute not only devoted to research of basic technology, but always challenge the more higher techonolical level.
[Automobile Parts]

"Running merrily" - Toward world, Toward future.
---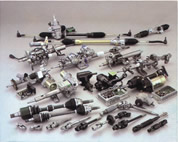 NSK NSSH is responsible for businesses of Electrical Power Steering Systems, including design, developing and production. NSK's output of steering systems rank second in the world; cross joint and EPS rank first. They invented continuously variable transmissions(CVT), single direction clutch etc. To get comfortable driving condition and produce less pollution, use fewer fuel, NSK always devote to develop high-end products and technologies.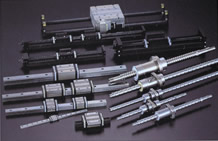 [Precision Machinery Product]

Speed and precision support the leading manufacturing technology in IT times.
---

NSK NPJ is responsible for businesses of ball screw and linear guide, including design, developing and production, marketing. With their experiences in precision manufacturing technology, NSK supply all users various precision positioning products.

  NSK engineers always devoted themselves to research and developing work for industrial lubricant, so as to guarantee the smooth running of bearings in varying conditions, like high temperature, high speed and those suitable for food processing.
| | |
| --- | --- |
| | NSK Bearing Install and Remove Tools |
NSK bearing unit and gray casting iron pillow blocks enjoy the merits of reliability, excellent quality, being widely used in construction machine, ceramic making machine, food processing machine, steel facility and paper making machine.